Agenda – Note saving app that can replace multiple apps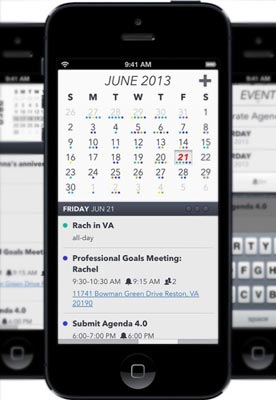 Notes are a necessity irrespective of the profession you are in or the age group you belong to. It is not possible to memorize everything, which is why taking notes becomes important for several reasons. Whether it is the contact details of someone, phone numbers or recipe of your favorite dish; taking down notes is the best thing to do. Also it is not possible to carry a pen and paper everywhere; This is when smartphone apps come to the rescue. Agenda is a notes taking IOS app which was launched recently and is quite interesting. It is designed in a way that it revolves around other apps like the task manager and the calendar app.
This app is beautifully designed, is quite unique in its approach and comes with some essential features. Agenda provides its users with multiple ways of organizing the notes and viewing them; the notes can be tagged, filtered, sorted as well as searched. So the bright side of this app is that it is flexible and can adjust and accommodate any kind of workflow. The drawback is that it takes time to discover the working of this app, but it is something that is not quite a serious problem.
How can the agenda be used?
The agenda notes app can be used and transformed into a number of things; from just the notes it can be transformed into a work journal, for reference purpose and as a planner.
Work journal
Agenda can easily be used as a work journal; a lot of things happen in a day or a month and remembering everything is not possible. You can scribble everything that happens in a notebook or a paper which can get misplaced. So it is better to use Agenda for this, you can write notes about minute details on agenda and turn it into a record book. In case you do not remember what was told you last week, then you can easily open agenda and refer to the notes. In fact with the option of tagging note and searching them, the process becomes a lot easier.
Planner
There are people who have a tight schedule almost every day, which makes remembering everything quite difficult. So in a situation like this where your day is quite tight and jam packed the calendar features of the Agenda can be quite helpful. You can add a note with the event on the calendar, which links the notes to the calendar app.
Reference material
The notes made in the agenda app can be used as reference material after weeks for particular tasks. Agenda lets one put the notes on the agenda, it is just like pinning notes. It is a great way of viewing the notes in a chronological order.
Overall Agenda is a great app for noting down important details, which can be used for reference and as a reminder in the future. The app is especially helpful for those who have quite a busy day almost throughout the week.